About Morris Chiropractic Clinic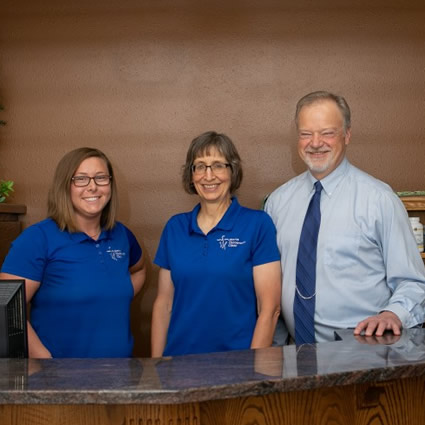 Dr. Monroe is proud to have been serving the Morris community for more than three decades. In fact, each morning when the team opens the practice, they come together and repeat a morning affirmation, pledging to do the best they can for each patient they come into contact with and serving them with world class care.
Our practice is warm and inviting, with our staff remaining happy and upbeat—when you enter the office, we hope our positivity rubs off on you!
Goal Oriented Results
When patients choose us for their care, we want them to know that we always strive to achieve their goals in health.
If you come to us wanting to get out of back pain or move easier, we'll help to uncover the root cause of your issue so that we can properly diagnose the problem. Then, we'll let you know what types of care will bring you the best results. From there, we'll develop your goals and craft the perfect care plan for your needs.
We'll continue to measure your progress and track how you're feeling. It's important to us that you see the progress you're seeking—and we'll do everything in our power to make it so, naturally.
Going Beyond Back Pain
While chiropractors are certainly known for helping patients overcome back problems, we want you to know that we've helped thousands of patients overcome other health challenges, too.
Recently, we worked with a man who came to us for back pain, and weeks later, had other health challenges clear up after battling them for years. He and his loved ones were amazed at how removing nervous system interference can restore health and wellness.
MEET DR. MONROE
Schedule Your Visit Today
We'd love to speak with you about how natural chiropractic care may help improve your health (and life!) naturally.
Learn more about what we can offer and how we can develop a unique care plan for you—get started today by contacting our practice.

About Morris Chiropractic Clinic | (320) 589-1541