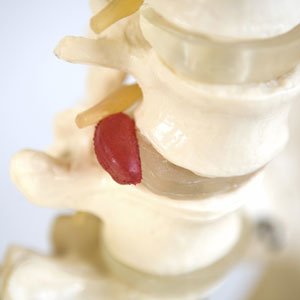 Bulging Disk Therapy
If you have a bulging or herniated disc, you'll likely experience pain while sitting, and/or radiating pain into your leg (sciatica). If Dr. Monroe determines you have a bulging disc, we offer bulging disk therapy using a flexion-distraction table.
How Does It Work?
When a patient lies down on the flexion-distraction table, it opens up the spinal joints and tractions them apart. Our table is motorized, so it runs through a range of motion relatively slowly. It addresses the cushion end of the disk and waste products pump out of the disk.
This highly effective therapy creates a little bit of a negative pressure so it sucks the bulge away from the nerves. Each session lasts 8-10 minutes.
You typically will receive a chiropractic adjustment at the same visit.
If you haven't had bulging disk therapy before, you may wonder what it will feel like. Rest assured that the therapy isn't painful at all; in fact, it feels good! Dr. Monroe often will run patients through one cycle of the therapy so they can experience just how good it feels.
One of our patients is a hard-working farmer who is hard to adjust. After Dr. Monroe put him on the table, it made a big difference. The patient would typically come back 2-3 weeks after getting adjusted, but the disk therapy allowed him to go almost six weeks before needing to come in again.
Dr. Monroe also has benefited from the therapy. "I have a degenerative disk and a bad hip. In just one session, I was able to go from walking with a limp to walking without a limp," he said.
Book an Appointment
You don't have to put up with pain from a bulging disk. Contact Morris Chiropractic Clinic today to book an appointment for bulging disk therapy Morris.
CONTACT US

Bulging Disk Therapy Morris, Hancock, Herman, Chokio MN | (320) 589-1541