Meet Christie Olhoft, Massage Therapist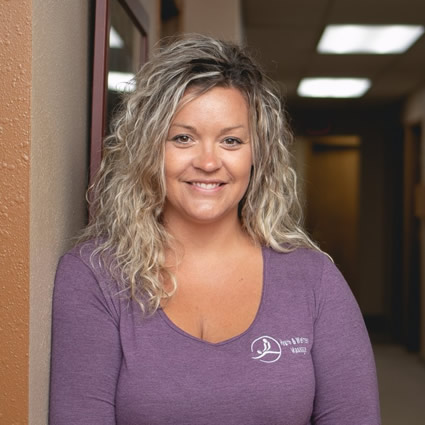 Christie joined Morris Chiropractic Clinic as a massage therapist after spending years working for the office in a different capacity. After spending some time working alongside Dr. Monroe at the practice, she let him know that she'd like to focus on massage therapy, and would be pursuing that as her career.
Dr. Monroe knew Christie was too valuable to lose, so he brought her on as our massage therapist, where she's been providing incredible care to patients ever since. She's done so well, that she's just opened her own massage office right next to us!
Christie considers herself to be a very kind, professional and open person who loves welcoming all types of patients into her care. She will always get to know you and your problem area before beginning so that care is custom and unique to your needs.
EXPLORE MASSAGE THERAPY

Outside of the Practice
When she isn't providing focused relaxation for patients during massage, she enjoys spending time with her husband and two sons, tending to her garden and working with essential oils.
Schedule Your Visit
Christie would love to meet you and help you achieve your goals in health. Learn more about her and how massage can help you when you call or text 320-287-2508 and book an appointment today.
Christie is usually in the office Monday through Friday from 8:00 a.m. until 1:00 p.m. If you would like to schedule outside of those hours, please call and chat with her about your options.

Christie Olhoft | 320-287-2508