Julie Monroe, Certified Health Coach & Office Manager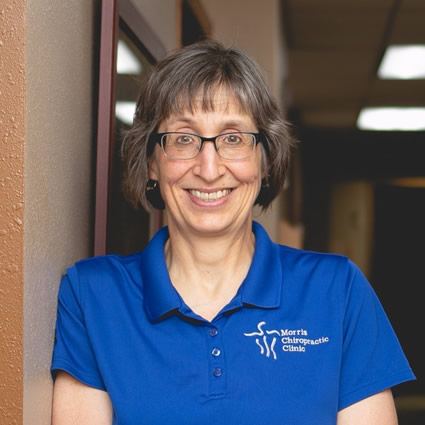 In her dual roles as a certified health coach and office manager, Julie is passionate about helping to change people's lives. "I love to help people lose weight and be healthier, which allows them to feel so much better about themselves."
Julie is a registered nurse and has worked in a variety of health care settings. Her father once said years ago, "It would be great if you could take care of us when we got older." As Julie had an interest in human health, becoming a nurse seemed like a natural fit for her.
Helping Patients Pare Those Extra Pounds
To equip her with the knowledge needed to help patients lose weight, Julie received training through "Take Shape for Life", which is now called Optavia. She also had training through Morris Chiropractic Clinic's prior weight loss program, Ideal Protean. With her background in nursing and training in weight loss, she is able to help her clients achieve their goals.
Friendly and caring, Julie also takes the time to meet with clients and answer all of their questions. She wants to ensure she has an understanding of their health picture and what their goals are.
EXPLORE WEIGHT LOSS

Embracing Natural Health Care
Through the years, Julie's perspective on health evolved from being medical-based to natural health-based. "Traditional medical care is important, but there are lots of natural health care options to help people become healthy."
Growing up in The North Star State
Julie grew up on a farm here in Minnesota. She is one of six kids who her dad called his "hired hands." As she lived the farm life, she can relate to the physical stress on your back that area farmers experience.
After graduating from nursing school, Julie met Dr. Monroe. They lived in North Dakota for a short period while he was finishing up his externship. Then they moved back to western Minnesota only about an hour away from where she grew up. They both have family close by.
Outside the Office
When she's not at the practice, Julie likes to do CrossFit with her husband. Reading about gardening are some of her favorite hobbies. Julie is also very involved in her local church and continues to care for her mom.
If you'd like to lose weight, we want to help. Contact us today to schedule an appointment with Julie!

Julie Monroe | (320) 589-1541